First off, I'm a stay-at-home mom who happens to love coffee and growing flowers using sustainable methods; Oh, and likes to play with said flowers. BAM! There's my brand. To be fair, it has grown to become more but this was the foundation in the beginning phases of building Sierra Flower Farm's brand. This is the great thing about being a little minnow in the great pool of business giants. I don't need to be a super sexy hot model covered in sand on the beach where out of nowhere I just happened to harvest some tulips! Okay, that was a little outrageous but building your brand can feel that way. I get to be me: a stay-at-home-mom fueled by too much coffee while I balance family and a flower-farmer-florist business.
When I was first exploring what was to become Sierra Flower Farm I didn't have a name, a logo, a website- I pretty much loathed social media. All I knew was I wanted to grow pretty flowers.
Husband: "what's your business plan?"
Me: "to grow pretty flowers."
Husband: "You need more of a plan if this is going to work…"
Me: "In the end at least they'll be pretty flowers."



Yeah… that didn't go over too well. There were many conversations (and still are!) about me wanting to operate Sierra Flower Farm as a business or a hobby. Ugh… those conversations are the worst! This is what happens when you marry into a family of accountants… simply wanting to just grow pretty flowers and sell them for latte money is not going to happen. I really didn't have the option to grow the flowers at a hobbyist level because I wanted to grow more flowers than a normal hobbyist would! Get my point? We didn't have the funds to support my flower habit. But I wanted to grow pretty flowers… so I made it work. The flowers had to carry their own weight.
Sierra Flower Farm (the brand) was born
I went to google, I went to the thesaurus. I put chic French words together that would spell out something like bloom a la stem. It was Graham who suggested Sierra Flower Farm. I felt it was… basic. Also, I had my true love of my life (don't tell Graham!) Sierra-roo-roo chinchilla just pass away. I get it, we're in the Sierras where every other liquor store has the name "Sierra" in it but I was hung up on it being my poor little chinchilla's name. I did always like the name though… it grew on me. I ran with it. Basic but hey, we're basic people! As a side note, my mom couldn't believe I named a business after my "dumb chinchilla." I would like to take this moment to say: I did not name my business after my deceased chinchilla, it's because we're in the Sierras and flower farming in the said Sierras. Besides, Graham wouldn't endorse me naming a whole business after little Sierra! Yeah, let's go with that.

Basically, leave the fancy behind. Focus on clean, simple- pronounceable name. It will make it easier for your customer to remember you!
Basic seemed to be the underlying tone I began going for. I wanted things clean. I wanted my logo to be fun but not distracting from the flowers. I knew I wanted my business colors to be neutral: black and white because the flowers should bring the color. This also ended up being a bonus because getting things printed out black and white saves you lots of monies! When it came time to figure out an exact logo my brother in law and his wife on a whim gave me five minutes to sketch out a logo during a family bbq (if I wanted their help in photoshop making it look pretty).
Sierra Flower Farm's logo was literally made within twenty minutes. The logo was born from a scrap piece of paper, a dull pencil and a rusty wannabe artist (that was me, in case you missed that memo). I am by no means an artist but I do get lots of compliments on my logo! See, I didn't have even $100 (let alone $500+) to hire someone to design the logo for me, thankfully we have family with some useful skills. I began to build my brand.

On a free marketing webinar someone suggested choosing three words that will define your business. Define your story. I am a girl that loves lots of filler words, if you've read my posts you know this! Three words. Let me tell you, this took days scribbling in journals, pouring over my friend, the thesaurus, once again. To boil your passion, your dreams, your business's entire mission into three words is tougher than you would think. Finally I gave up and wrote my business mission statement because that was easier! Yes, I have a business mission, I went legit! Not sure if anyone reads it but I do! It reminds me what I am doing all this for.
After writing up my sweet mission statement, I went back to the three words. This may seem unnecessary but it came down to I felt I needed to tighten up my vision. I finally landed on it:
Local. Fresh. Sustainable.


Fresh. Local. Sustainable.
Fresh: I wanted to bring something different to our little community. I was passionate about producing the freshest and best product I could. Fresh, farm fresh, was not easy to come by for flowers. Flowers that my customers got to enjoy for the longest possible time, instead of being flown in and sitting in storage for days and weeks. I for one was tired of store bought flowers that wasted away and rotted within a couple days. Fresh.
Local: I wanted to support the local movement and wanted to honor that by serving my local community. Keeping to the grown not flown, meaning not even using imports for my event work. Keep it as local as possible (preferably my own blooms!) by purchasing from local flower farmers and other US companies. I would rather drive three hours away in my tiny subaru, spend $10 of gas to snag local blooms from other like minded flowers in a pinch. Wholesale and imports are just not my thing. This means also buying seed and tubers from small growers when I can swing the cost!

Sustainable: This was near and dear to my heart. My kids, my dog, my family would be romping in the garden along with me. I wanted to add to the earth's health, not deplete it. Therefore we aim to responsibly use natural products and methods. We aim to be a haven for beneficial insects and animals (even though I still scream like a baby every time a lizard runs over my foot!).
Farming is much more than the stereotypical corn and soy fields. Or in our area, more than ranching. Don't get me wrong- ranching is hardwork that I'm glad I don't have to do but it took me time to embrace that even on my tiny scale, in my tiny yard- I was still a farmer. Farming is hand digging rows, welcoming beneficial insects, watering responsibly, growing diverse crops, properly rotating those crops, healing unloved soil: being a caretaker of the little piece of earth that is yours.
Handing beloved customers flowers you bled, sweated and cried over and still refused to use toxins never gets old when they smile the biggest smile. I want to know that I'm doing my part in handing over (at least a small patch) of healthy earth to my daughters. We are cultivating a little ecosystem, working with nature rather than against it. I want to know that I am not handing flowers that are not coated with toxins and preservatives (unlike many imported flowers in the stores). Heck, I don't want to handle those! I choose to boycott floral foam- not the most convenient at times but completely worth it to me.
Those were the three words (along with my mission statement) I built my business on. I refuse to use imported flowers in any of my design work and had to embrace the seasonality of my products because of that. Sure in the beginning, I did purchase imported flowers to appease a sweet customer but I wasn't a fan. It felt like cheating. I am a farmer first, and a florist passionate about local flowers second. Plus those ordered flowers stunk to high heavens!
Perhaps you don't have those same convictions and that is completely okay! Isn't it great building your own brand? It customizes to fit you! The mission statement and three catchy words gave me guidelines on how I wanted to present and operate my business and why I wanted to operate my business that way.
What does this do? It empowers me to stay with my convictions, to be able to say "no" at times and to be able to say "yes" oftentimes. It allows me to be upfront and genuine with my brand and lay the foundation of expectations my customers may have. It allows my brand to attract ideal customers, people who get it, who get meeee!

Building your brand is the time where you begin to find your voice. Try and find three words if that'll help you! Why did you begin on this journey of flower farming? Why do you want to be a flower farmer but not a florist? Why do you want to be a farmer-florist? What products do you want to use? Who is your ideal customers? Are you passionate about local flowers and the slow flower movement? Do you want to be a hobbyist or take the leap and become full fledged entrepreneur? What do you want to say to your customers, family, community, the world through your flowers? What examples do you want to set? What part of flower farming motivates you? Are you passionate about low carbon foot print? Are you passionate about local flowers (hint, you don't have to be just because you grow them!)? Education?
These are just a few examples of questions for you to ponder on as you begin to explore building your brand, which is really beginning to build your business as well. Be genuine, it's difficult to be anything but. Be kind. Don't bash others in your brand, be welcoming. Be humble. Don't get on your soapbox and guilt people into supporting your brand. Passion can be a slippery slope when educating clients, you could easily come off too aggressive or even snobby!
Don't get overwhelmed when selling your flowers or educating potential clients, you got this! Feeling uninspired? Take a walk, look at inspiring IG accounts, have coffee with a good friend. Give yourself a break and then come back to it. Take your time because these early stages are going to be the building blocks of what your business will become.
You need to have a website. You need to have a domain name. You need it to be ".com" and not some weird thing. You need to have every business social media account under the sun. You need to have internet presence. Get rid of that "@gmail" "@google" and get professional. It needs to be "@(whatever your business name is). Even if you feel unworthy or that it is unnecessary at the moment, I'm here to tell you: in this day and age you need to. It makes you look professional. If you can muster the energy, you should blog, vlog, whatever. Even if you are just writing for your mother to "ooo" and "ahh" and what their awesome creative kid made. You need social media but don't rely on it. Put your energy into your website, that's your space! Put your energy into email campaigns. Keep content fresh, don't let your website sit stagnant! Also, throw an online store up there, make it easy for people to purchase your product! We live in the age of convenience, for most people that does not include calling on the phone.
Content, content, content: become your own photographer


Graham and I decided to become our own photographers, thanks to YouTube and persistence, we've gotten pretty decent. Plus, our photos are ours. No high purchase prices, contracts and fees from a photographer. I get to use my photos however and whenever I want. Besides, we are flower farmers, not planners. We work with nature, we can't decide when an exceptional moment will happen that is photo worthy. Two quick examples.
First: one of my favorite photos I've taken to this day was one of a hummingbird moth feasting on sweet pea nectar at sunset. Completely unexpected and I haven't caught that moment since!
Second: the photo above with me holding the last of the fancy daffodils when I (oops) let them blow open while gone over the weekend. I was sunburnt, covered in mud and super annoyed waiting on Graham while he waited the sun to set just right… it turned out to be one of my new fave photos! I could not have planned that and hey, I am a terrible planner.
Guess what? That was my chance because our hundreds of tulips were a loss this year!
We are the farmers, we are in the trenches and we work to capture those moments ourselves. Luckily, in the beginning stages of my business I had a handful of photos from my vegetable garden that I took before flower farming. I also created content when there wasn't any content: staging seeds in Graham's fabulous wooden bowls, soil blocks, plant babies in the greenhouse. I used those photos for my website, then as my season picked up and better photos were taken: I switched them out lightening fast! At least I had those in the beginning. They made Sierra Flower Farm look legit before I even felt close to feeling legit (okay who am I kidding? I still don't feel legit haha!).
I briefly mentioned blogging and vlogging: talk to your peeps! Keep your website relevant, I'm sure you have something to say to someone! Everyone loves a hero's journey, share yours!
Marketing Materials


Marketing materials is a topic all on its own. I find balancing quality versus cost effective was puzzling at first. I had to be selective on what marketing materials I would use, that would represent my business the way I wanted it to but not cost me so much that my operation budget was blown on packaging and other marketing materials. Marketing materials aren't cheap. The cost can quickly run away from you then you have two choices: eat the cost from you profit or raise your prices to afford the materials that go into. For example, I invested in an adorable metal sign with my logo on it for like $100 from a local sign business. Plus they rushed it, it was a chunk but really a steal! That sign has been blown over, leaned on, kicked, hung on a ladder: we are not kind. This was my choice in lieu of a banner or A-sign. The reason: I wanted something cute and versatile (obviously tough too!). I do not only sell at farmer's market and I do not base my brand around that outlet. I also sell at outlets that demand cute, so it has to work on that level too. It would have been easy for me to simply buy the banner for farmer's market and something else for my other outlets, instead we brainstormed and weighed the pros and cons. We decided on a compromise that would work for us across the board.

I also invested in expensive business cards. I was very particular about not wanting my business card to be a standard size, shape, design and even weight. I wanted cute. I wanted interesting. I wanted to be different. I am not a boring accountant (no offense Graham!). Stock images and designs were of no interest to me. All that costs. I also wanted to break the chains of local flowers being "cheap." I wasn't going to sell a mason jar filled with dahlias for $5, I didn't want my business card to suggest that I ever would. I was interested in penetrating a higher market, I did this with quality. Quality with my product, packaging and business cards. This doesn't mean I went nuts. I don't give my business cards out with every single bouquet. They are there for when people want them, they go in with new subscription members welcome card and for my custom orders. I can invest in higher quality cards because I also make tags for other products that are way more cost effective. To make the tags I bought a circular cut out punch, snagged some card stock paper and a $20 custom stamp with my logo. Voila! Everything I sell goes out with my logo, that can get expensive with stickers so we went this route. I also like to include hand-written notes to my subscription members. When my members support me upfront, they become friends, they become family and I want to make sure that they are appreciated! One of the ways I do this: a hand-written note. It's the little things that can make someone feel special. That's about it for my marketing materials! I do have postcards and make handcrafted cards for the gift givers to give to their recipients.

To outsource or not to outsource?
The best person who knows how they would like to cultivate your flower farming brand is you. We really bootstrapped to get Sierra Flower Farm up and running. Who am I kidding? With this new property in many ways we are back to square one and back to bootstrapping. We did a lot of things that others in the industry would really frown upon. It's not "the way." They're right, we don't do things "the way" others say it should be done, we do it our way and give it our all in the process. No, we didn't hire a graphic designer for our logo, I didn't hire someone to design my website or my business cards, I didn't hire a photographer to take photos of me- there's a lot of things that I didn't do. Guess what? I still built a solid brand. Call me stupid, cheap or a control freak. I didn't have $500 to throw into a logo and honestly, I'm not sure I would have been happy with anything someone else created. It was a non-option for me. I think it's a non-option for a lot of others. I wanted to grow dahlias and order ranunculus corms instead of hire someone to make a logo. Now, I'm really attacking the logo- this is just an example. There are a lot of ways you can find yourself outsourcing. Not that outsourcing is bad, but in the beginning- do you have it in your budget?

Had we not decided to put focus on photography, we would hardly have any photos! Even Floret, sure they talk about a big break in their business was when she hired a photographer to take photos of her, becoming the face of their business and they were frontiers of that for sure. Guess what they also quickly figured out? ITS EXPENSIVE! Hiring a photographer is expensive and you're going to miss out on some of the best content if you can't figure it out for yourself. Besides, you'll find out how fun and amazing it is! Okay, there's times when I get so caught up in tasks that I get pretty grumpy when Graham makes me slow down for a photo. I also try to capture photos of all the arrangements and bouquets I send out to the world, it's content baby! It's brand building glorious content! Plus, I have photographic evidence if someone ever puts in a complaint (hasn't happened but it could!).

Websites aren't what they used to be. Unless you're a giant business, building a website is user friendly these days. I'm not familiar with other platforms but I love love love Squarespace. We have been grandfathered into a pretty sweet plan (but have recently decided to upgrade to the business plan). Graham encouraged me to go for the smaller commerce plan, where I could blog unlimited and have a simple online store. I thought he was nuts at the time but he saw what Sierra Flower Farm could become, I was seeing it at the moment. I hadn't written in years, no way I was going to blog! I was going to sell at farmer's markets or door-door in my neighborhood, who would even look at my online store?! It's so annoying when husbands are right. Let me tell you, my website is busting its butt for me while I'm getting my cardio on in the gym. My blog is being read across the world while I'm drooling in my sleep. Subscriptions are being sold while I'm reading to my daughters. It's there, it's working for me. Sure, I had to put upfront time into it. Sure, I have to add and maintain it. It is worth the hour every week. If I can do it, you can do it! Also, you'll feel pretty proud of yourself when people compliment how amazing your website is. That was you. All you.

I realize that there may be other things in building your brand that you could hire out and it is not coming to mind at this moment. Perhaps someday, outsourcing will become more efficient. You will be so crazy successful that it costs you more to DIY certain tasks than if you just hired someone to do it. Right now, we are talking about the right now. The basic business necessities you need to be able to, well, have a business! To get it up and running. Flower farming is awesome but without these basic business things, who's going to know to buy your flowers?
Choosing sales outlets that represent your brand right!

This leads into where do you want to sell your product?
Oh yes. This is part of building your brand as well.

Think of your outlets, think of the brand you want to build. Think of the message you want to send out. It is easy to get caught up in the beginning saying "YES" to every person that approaches you wanting to sell your flowers or wanting you to be a flower vendor. By the end of your first season you will get burned out if you say yes to every person who asks. Know your limits, know how you want your brand represented and know your worth (know your flowers worth).

Does that boutique represent your farm and the image you want to portray? Are you into trendy co-ops or cutesy shop? Do you want your product in a big chain grocery store or a little mom and pop shop? How do you jive with the owners/employees/customers? Is your sole focus farmer's market because that's what you're into? Making a little cash and chatting up with people on your Saturday? Do you want to dive into wedding work? Can you handle that pressure? Sell wholesale, because the thought of working with the general public makes your skin itch? Can you deliver consistent great blooms? Do you want to just do bouquet subscriptions? Still have to hustle but it's more low key. Are you going to deliver or are you going for more of a CSA style? Do you want to team up with other growers, like vegetables farmers? Cater to businesses and restaurants? Would you like to sell in some cutesy boutiques or trendy coffee shops? Do you just want an honest stand at the end of your driveway? Maybe you're crazy like me and want to do a little bit of everything!
Final ramblings…errr…thoughts….

Don't market your brand as it is right now. Market it for what you dream it will become. Trust me, it will outpace you fast (you will not see it coming!). Don't go crazy spending on marketing materials then have nothing left over to put into your actual product (which may lead you to having to put flower farming on the back shelf until next season!). Also, remember whatever sticker or card you put in with the product- build it into the price to accommodate!

I realize this post didn't give you some magic formula on how to successfully brand your business in five fancy tips. Hopefully it got you thinking though! As I've said all along, flower farming is not a one size fits all. Don't copy, sure get inspired by others but then find your own voice. I think it's time to shake things up a bit, I don't know about you but I'm bored with the hundreds of flower farmers all taking the same kind of photos on IG with their butts sticking out. I'm tired of the same things being regurgitated over and over. I'm craving something new, something fresh. With so many awesome people getting into the industry, it's time for us to celebrate our unique visions, our unique brands and turn this industry on its head!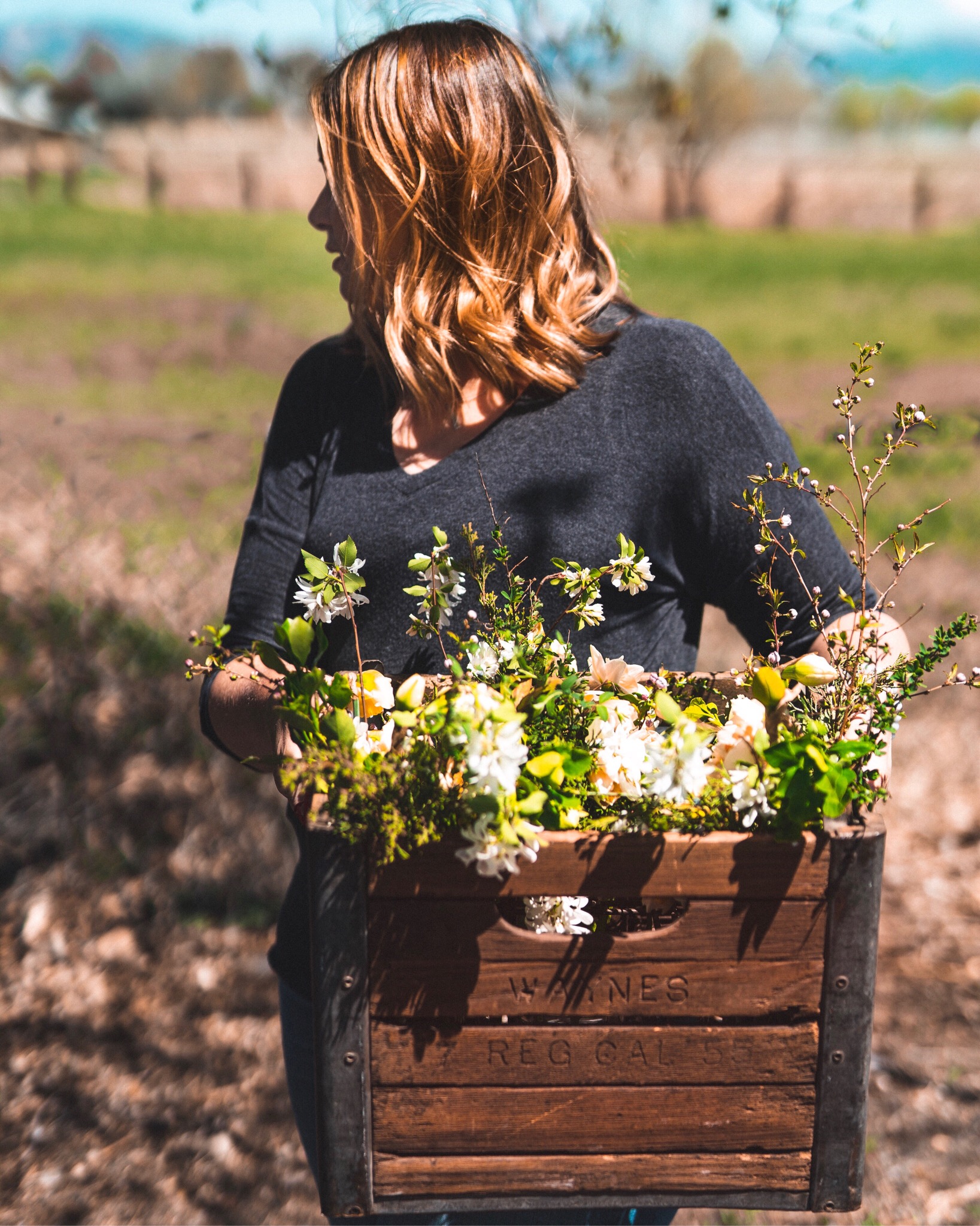 I am looking forward to helping you hand blooms soon!